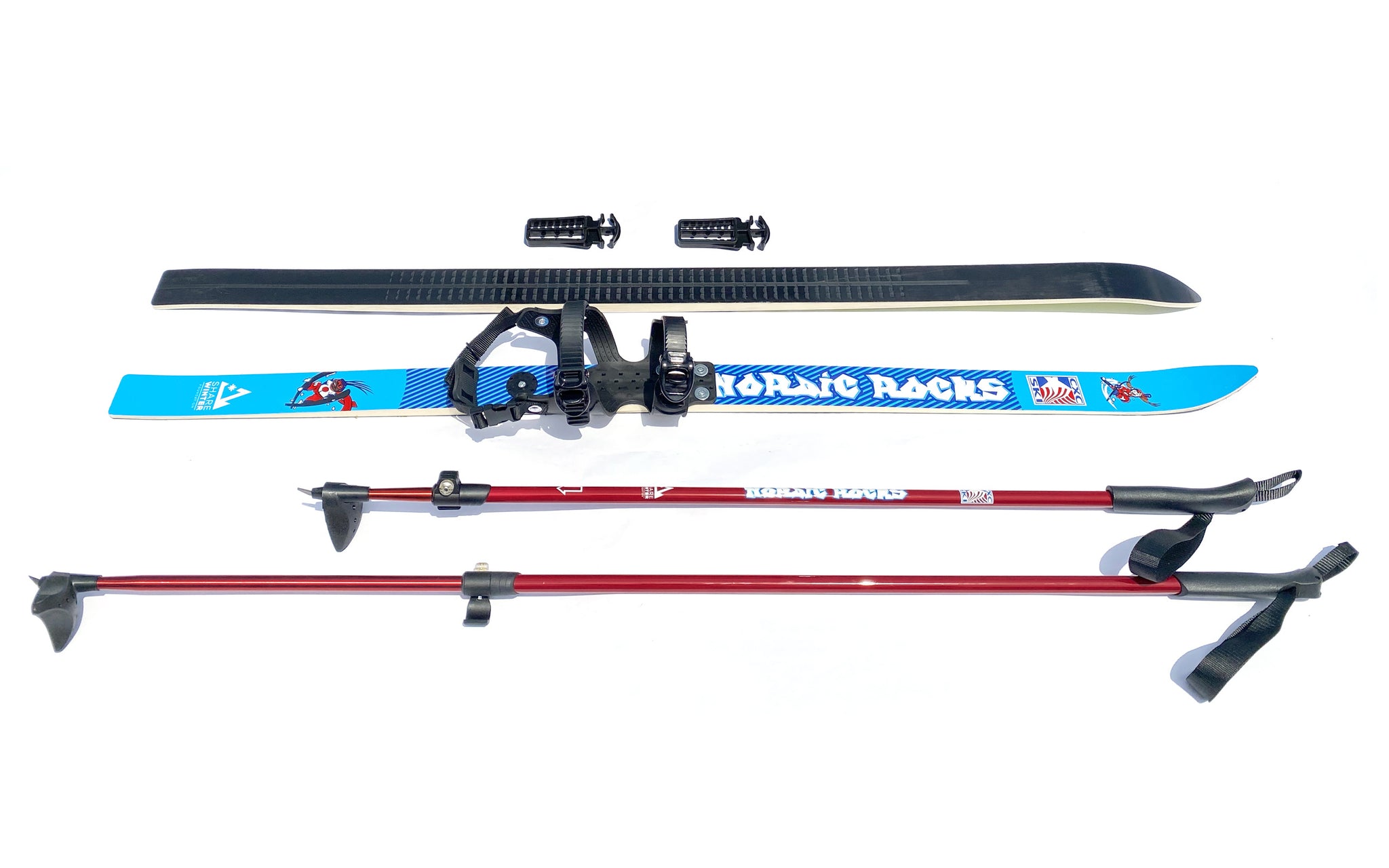 Kids Beginner Nordic Rocks Touring Cross-Country Ski Set With Universal Step-In Bindings (Ages 6-10)
Central Cross Country Skiing (CXC) is committed to growing the sport of Nordic skiing for participants of all ages and abilities. Having simple and affordable equipment is a critical component of our goal in building the base of the sport, and creating lifelong participants in Nordic skiing.
The Nordic Rocks ski touring equipment is designed for kids ages 6-10 who are NEW to skiing. The ski set includes waxless fish scale wood-core skis with a STEP-IN binding system (no ski boots required) featuring ratchet buckles and straps that fit any size snow boot. Also included are adjustable-length aluminum ski poles and ski clips to clip every piece of the package together into one easy-to-carry underarm load.
Strap in with any size boot or shoe for maximum convenience. All you need are the skis and weather-appropriate footwear. Then, enjoy whatever snow you find: out-of-track, over rolling hills, or breaking trail – this ski set does it all with minimum maintenance and hassle.
Ski Length: 47 inches (120 cm)
Pole Length: adjusts from 35 to 51 inches (90-130 cm)
Ski Design: Classic
Ski Terrain: XC Groomed and ungroomed
Ski Camber: XC Single Camber
Metal Edge: No Metal
Core: Wood
Kick-Zone Traction: Patterned Base
Bindings Mounted: Yes

[Wood-Core, Fish Scale-Patterned Waxless Skis] – Each ski has a premium wooden core and fish scale-patterned finish to avoid the question of waxing.


 

[Step-In Bindings, No Ski Boots Required] – With two ratchet buckles and straps that adjust to any size of snow boot or shoe, Nordic Rocks skis make it easy to gear up and hit the snow without any special equipment. It doesn't get more beginner-friendly than this!


[Ideal For Kids Ages 6-10 New to Skiing] – Lightweight, adjustable aluminum poles grow with you from 35-51 inches long. Skis are 47 inches long, accommodating kids from ages 6 to 10.


[Ski Any Way You Want] – Out-of-track, rolling hills, and trail breaking – all you need are the skis and weather-appropriate footwear.


[Storage Travel Made Easy] - Every piece of the ski set clips together into one easy-to-carry underarm load with the included ski clips
Return Policy: return requests accepted within 30 days of the delivery of the original shipment.